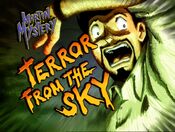 Terror From the Sky is the second episode of season 1 of Martin Mystery. 
Summary
The crew investigates why a man freaked out as something went closer to him. Meanwhile, in school, Martin makes a horrible impression to Jenni. He slobbered on her cheek. This is how all the drama of Martin and Jenni began. The Center calls the crew from a locker but they thought it was a monster. As they search for what happened, they meet Sadie who claims that her dad is missing
Characters
Trivia
This is the first episode of Jenni Anderson
This is the second episode of all Martin Mystery series
Ad blocker interference detected!
Wikia is a free-to-use site that makes money from advertising. We have a modified experience for viewers using ad blockers

Wikia is not accessible if you've made further modifications. Remove the custom ad blocker rule(s) and the page will load as expected.